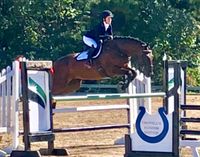 HOLLY HILL HORSE TRIALS - SAT/SUN 27TH/28TH OCTOBER
Great day and super job ! 
Open Preliminary - Stephanie Reimers (33.3 5th Dr) - TE Overall
Junior Novice Rider - Erin Roane (30.20 1st Dr) - 5th Overall
Beginner Novice Horse - Laura Bolerjack (31.8 3rd Dr) - 6th Overall
HT at Meadowcreek 
 Prelim Training
1st ~ Stephanie Tasso Reimers riding Hank (pictured)  32.30 Dr  1st Overall  
Open Training
2nd ~Christine McCarter riding Peaches ....35.5 2nd Dr , 3rd Overall
Beginner Novice
 7th~ Erin Roane riding Beau.................32.5 7th, 7th Overall 
Twinwood was excited to host a clinic with Carsten Meyer on May 18th-20th. It was a full three days of dressage, cross country and stadium jumping lessons. Riders and auditors took away lots of valuable information and fun was had by all! We can't wait for Carsten to come back for the next clinic!
We are so proud of Team Twinwood's performance at the Shoofly CDI & HDS Spring Classic! Twinwood had a total of 16 horses competing and won a total of 9 first place ribbons, as well as multiple seconds and thirds. But most importantly, all of our riders and horses showed so much progress and potential. It was great to see such a large group of our clients competing, supporting each other and having a ton of fun! We look forward to the next show!
Holy Hill show April 21, 22nd 2018
Ashley Stanka - Jnr Open Prelim - 33.5 (7th Dr) 10th Overall
Mackenzie Lea - Jnr Training - 31.7 (4th Dr) Elim
Lisa Moore - Starter - 33.3 (1st Dr) 1st Overall
Erin Roane - Jnr Beginner Novice - 34.4 (10th Dr) 6th Overall
Congratulation's to our riders who did an amazing job at Meadow Creek this last weekend! We are so proud of Nikki Taylor-Smith's eventing crew. Way to go!
Open Novice - Laura Bolerjack 33.8 (7th DR) 6th Overall
Sr Novice - Debbie Blake 32.1 (7th DR) Withdrawn
Jr Novice - Gaby Ortiz 39.5 (13th DR) 8th Overall
Jr Novice - Mackenzie Lea 30.5 (1st DR) 3rd Overall
Open Prelim - Christine McCarter 39.0 (11th DR) 5th Overall
Jr Training - Ashley Stanka 36.8 (4th DR) 2nd Overall